Thursday, 24 June, 2010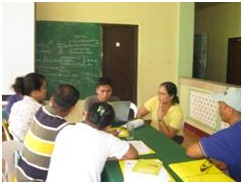 Unlad Kabayan Migrant Services Foundation Inc. is a non-government organization (NGO) based in the Philippines. Formed in 1996, we focus on migrant workers and social entrepreneurship in the Philippines. We pioneered the approach of directing migrants' savings into business and enterprise development in some of the poorest areas of the Philippines.
Unlad Kabayan held a two-day Local Government Unit (LGU) Sensitivity Training & Workshop on May 30 to 31, 2010 in Unlad Bag-ong Linamon, SEEDS Center, Upper Poblacion, Linamon, Lanao del Norte.
The training-workshop aimed to develop the capacities of non-government organizations (NGOs) to deal substantially and comprehensively with local government units (LGUs) and to provide them skills in influencing/transforming LGU plans and programs.
At least 40 individuals participated: Municipal Mayor of Linamon, Noel Dea-o; municipal councilors from Linamon, Matungao and Kolambugan; NGO representatives from Metro Manila, Davao and Lanao del Norte; community leaders and entrepreneurs.
Resource speakers were faculty members of the Political Science Department of the University of the Philippines, Diliman Campus, namely: Dr. Jorge Tigno (Board of Trustees member of Unlad Kabayan), Dr. Maria Ela L. Atienza, Dr. Ruth Lusterio Rico and Associate Professor Nelson Cainghog.
Among the topics discussed were: The Importance of Local Governance; The Local Legislative Process; Crafting Local Legislative Measures and Developing a Legislative Agenda: Local Legislation for Social Enterprise Development. In between lectures, there were open forums to give the participants a chance to share their experiences in working with LGUs. The participants applied what they learned from the lectures in the workshops, where they were given different cases and tasks to tackle.
The participants said the knowledge they have gained from the training workshop will be beneficial in implementing projects, particularly those involving the collaboration between LGUs and NGOs.
This activity was funded by the European Union through the EC-UN Joint Migration and Development Initiative.