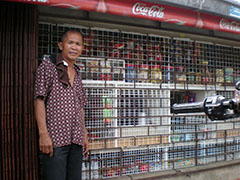 Micro, small and medium enterprises can borrow money from us through the Credit Assistance Program (CAP). Loans range from amounts as low as P3000, to above P1 million, and are used to pay for improvements to our beneficiaries businesses, and to help them upscale their operations. We Loans typically run over 3-30 months, and enterprises can receive consecutive loans.
Business owners have expanded the size of their restaurants, purchased vehicles, bought new machinery, and hired additional staff with the help of CAP. In many cases a relatively small loan can allow a struggling business to become successful.
The funds used by CAP come from investments from OFW investors, and a P10 million credit line from the Development Bank of the Philippines (DBP). We also assist cooperatives and migrant organizations to establish their own credit programs through credit management training services.