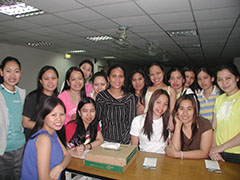 Overseas Filipino Workers The Commission on Filipinos Overseas estimates that 10% of the population of the Philippines or around 9 million people are working overseas as temporary workers at any given time. These migrants are identified as Overseas Filipino Workers, or OFWs. It is important to note that there are 42% of these groups have emigrated permanently to other countries. OFWs differ because they are temporarily based overseas, and are usually sent overseas by an employment agency.
In 2008 1.3 million Filipinos were deployed overseas as domestic workers, medical professionals, construction workers, maritime workers, and IT experts, amongst others (Philippine Overseas Employment Administration). They are sent to countries across the world, including those in Europe, the Middle East, East Asia, Australia and North America.
Many OFWs are employed in "3-D" jobs: dirty, difficult, and dangerous. Filipinos are often subjected to unfair working conditions, long hours, low pay, and human rights abuses. 10% of migrant Filipinos are undocumented or overstaying in a foreign country. They are often employed through unofficial channels, so are afraid to complain about any wrongdoing, as they will lose their jobs. Most of the money OFWs earn overseas is sent home as "remittances" to support their families. In 2008 US$16.4 billion was sent to the Philippines as remittances, making up 11.4% of the country's GDP (BangkoSentralngPilipinas, National Statistics Office, CIA World Factbook).
Remittances are sent directly to OFWs' families, through official and unofficial channels. Families spend their received remittances on food, and improvements to their homes, but very little of the money is saved. Families are dependent on the next round of remittances, and the entire amount of the remittance is usually spent. This results in the problem of the migrant worker becoming "trapped" overseas, as their families are dependent on the money they send home. Although people who migrate overseas poor, they are not the poorest of the poor, as they have some money to help get themselves overseas. This means that migration and remittances are not a replacement for development, as the most vulnerable people in communities are unable to benefit from them. OFWs reasons for working overseas include paying for medical bills for a sick relative, education for their children, and because there are simply no jobs in their local region. Female OFWs are younger than their male counterparts, with the 25-29 years old the most represented age group (Philippine Overseas Employment Administration). Mothers often leave their families to pay for their children's education, leading to broken families.